News
Galaxy's Edge Costume Guide 06/18/2019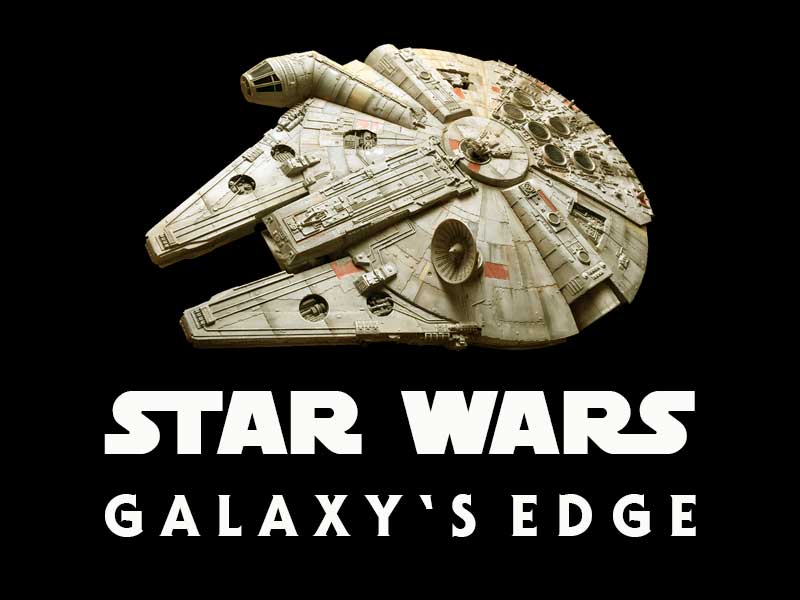 Wearing Star Wars outfits at Galaxy's Edge
Galaxy's Edge is the new Star Wars inspired land at Disneyland, California and DisneyWorld, Florida.
Visitors will get to explore the planet Bantuu, visit Black Spire Outpost and enjoy attractions such as flying the Millennium Falcon.
As an immersive experience, you will really get to feel like you are in Star Wars. But can you cosplay your favorite Star Wars character while there?
Disney Parks have strict guidelines when it comes to visitors wearing costumes.
Costumes may not be worn by guests aged 14 years or older.
In terms of safety, this is to protect all guests. Disney Parks have special cast members - costumed characters who are there to interact with visitors. If you see an adult dressed up, you know they are an employee of Disney. By having a blanket rule across all their parks, it prevents any visitor from deciding to cause mischief or bring any of the Disney characters into disrepute.
For Galaxy's Edge, the guidelines are as follows:
The current Disneyland Resort costume policy will be in effect in Star Wars: Galaxy's Edge. Costumes may not be worn by guests 14 years of age or older. Appropriate Disney bounding — dressing in outfits inspired by favorite characters — is permitted.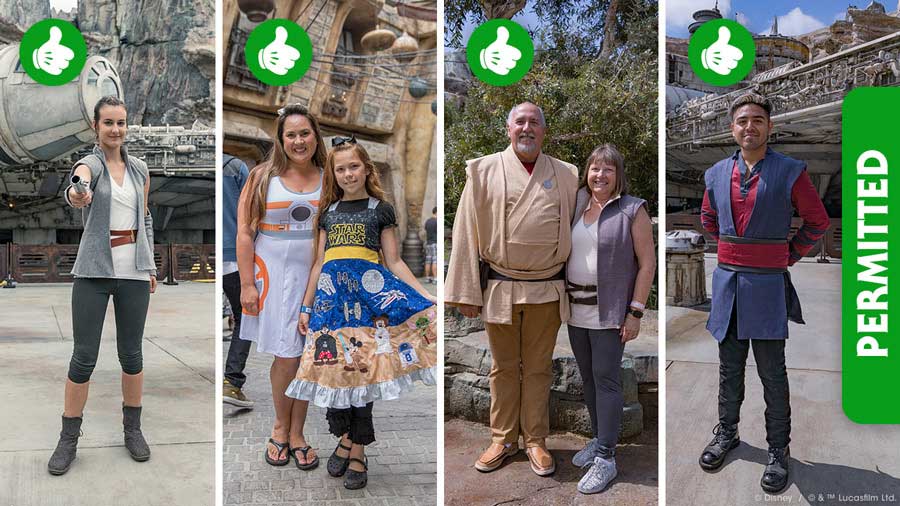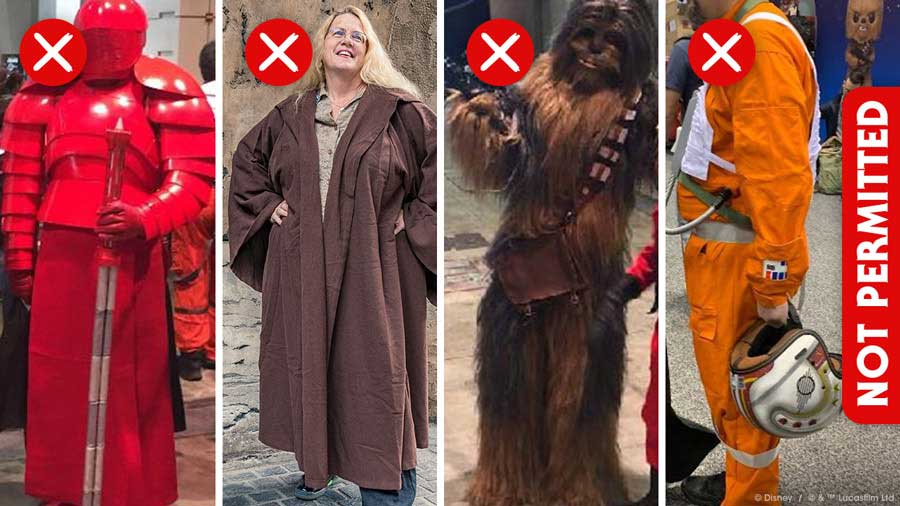 What is DIsney Bounding?
Wearing traditional clothes that are put together in a way that is inspired by a characters look, either in style or color schemes
Using Star Wars fabrics
Printed costume t-shirts
Bantuuan attire
Wearing muted tones or layers
While you won't be able to wear your full Jedi regalia, Stormtrooper armor or Han Solo gear, we have some suggestions that could still make you feel the part.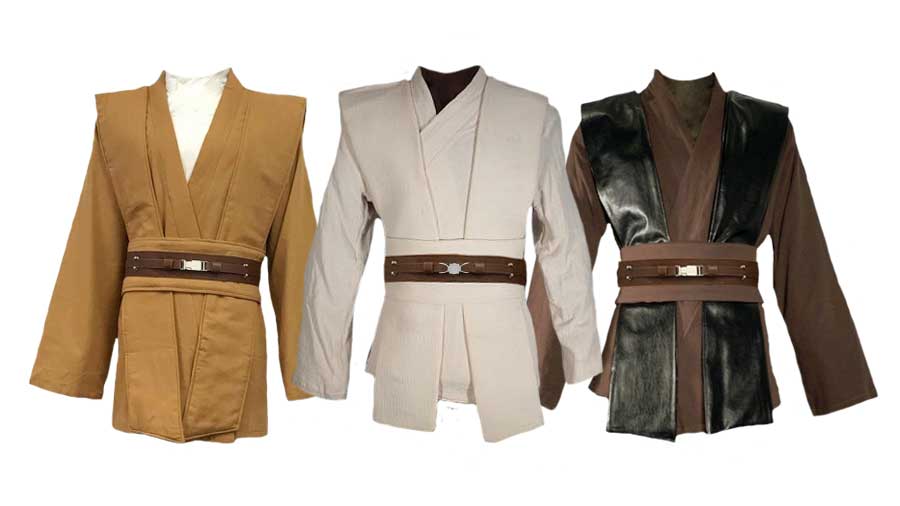 You could wear a Jedi jacket, tabards and waist sash over a plain t-shirt with earth tone pants or leggings and your usual shoes (not boots).

Accessorize with a belt, or maybe a satchel with food caps or pouches attached to the strap. Lightsabers are permitted, so you can still wear a covertec lightsaber belt clip on your own belt.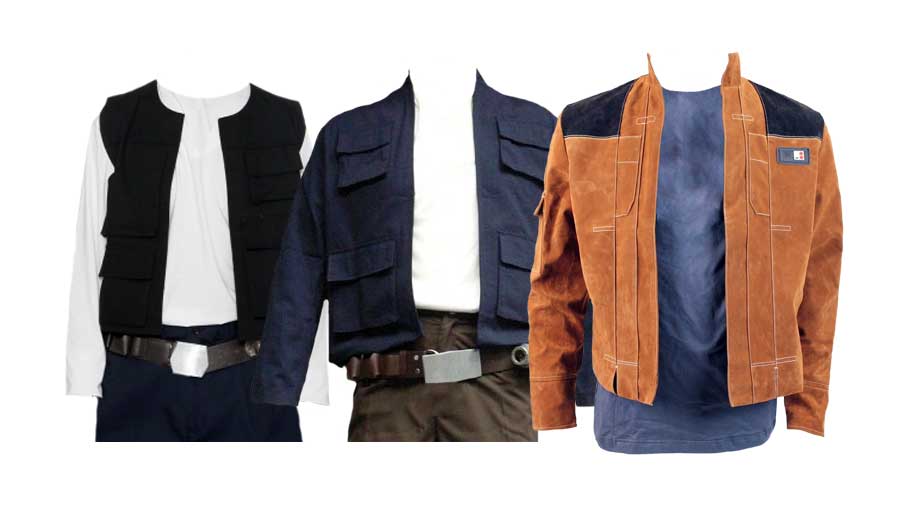 Try one of our Han Solo vests or jackets. You can either use the shirt supplied, or a long sleeved t-shirt of your own. Costume pants, dark pants or leggings with your own shoes (no boots).
There is a no blaster policy, but you can still wear our Han Solo belt without the holster.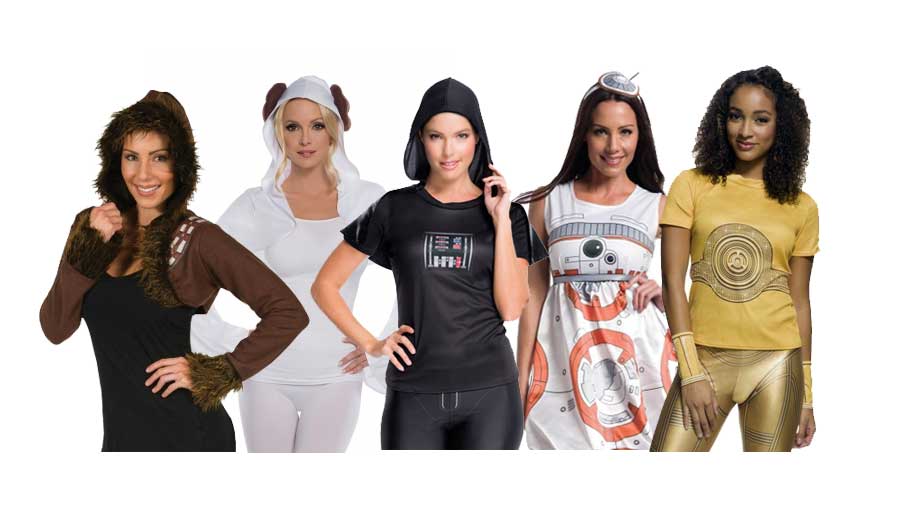 Ladies Inspired Costume and Character Outfits
We have a range of t-shirts, boleros, leggings and dresses inspired by your favorite characters.
Create your own look or accessorize and get bounding!
If you are unsure of the costume policy, always check before you travel.