News
Star Wars Cosplay Interview with Paul 08/17/2018
Paul Page was a recent winner in our Cosplayer of the Month competition. When we contacted him to let him know he had won, we found he had a passion for cosplay and was very interesting to talk to, so we asked if he could share his thoughts about his own personal cosplay journey....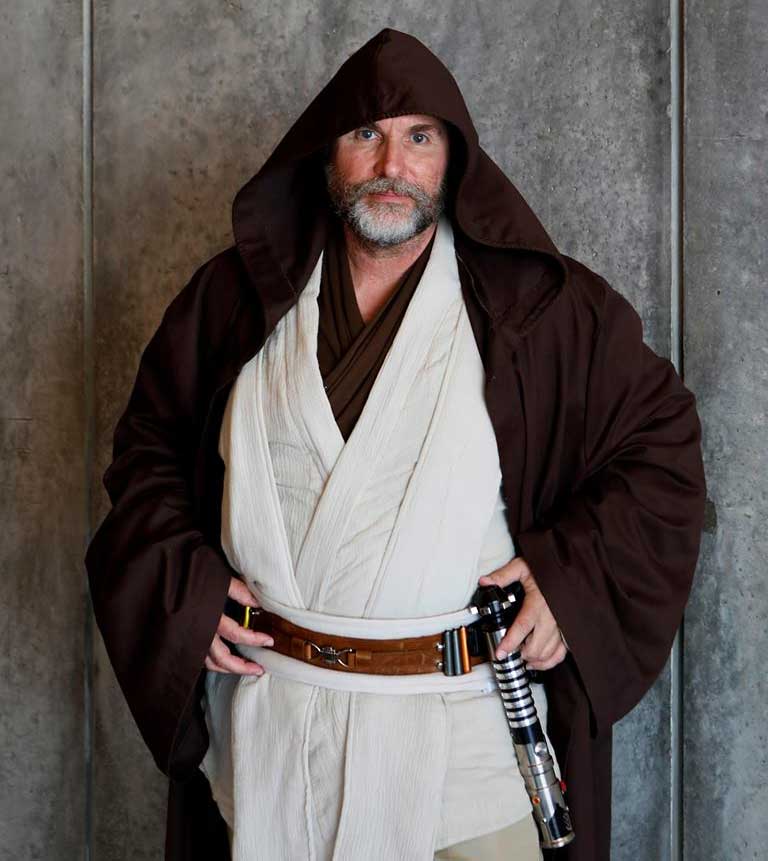 Tell us a bit about why you started Cosplaying?
I am an aspiring actor, cosplayer and prop maker.
I have been a Star Trek Fan since 1969 and attended my first Star Trek convention in Houston, Texas in 1975 where I got to meet Grace Lee Whitney. She was so great and asked me to sit in on her Q&A (not sure if they called it that back then). She answered a lot of my questions about how they faked shaking the ship and who made the props.
Years later I was reluctantly taken to see Star Wars in June of 1977 and was turned into an instant fan.

I always wanted to go into acting but my career took me down a different path. Cosplaying is not just a hobby but a way to focus my artistic expression. Making props and costumes then going out and meeting up with like-minded people cosplaying their favorite characters helps with my study of acting. I also enjoy taking my passion and helping out for charity work.

What was your first Cosplay event and costume?
In Feb of 2017 I did my first cosplay as Indiana Jones at the Dallas Comic Book Show. I had been following cosplay and creating a few costumes since October of 2016 but this was my first official event.

How long have you been doing this?
I attend as many medium to large pop culture cosplay conventions as my full time job permits.

How often do you attend events and which are the best events?
On average I attend one convention or event per month.
The best for me are the medium and large conventions. These have workshops for everything from prop making to how to audition for an acting role.
Dallas Fan Expo and San Diego Comic Con being the large with All-Con medium or Dallas Fan Days being medium size. Some of the smaller conventions that do not have celebrity guests typically do not have very good vendors or workshops.

Do you travel outside your state?
No but Texas is a pretty large State. I have attended conventions in Dallas, Fort Worth, Houston and
Austin Texas.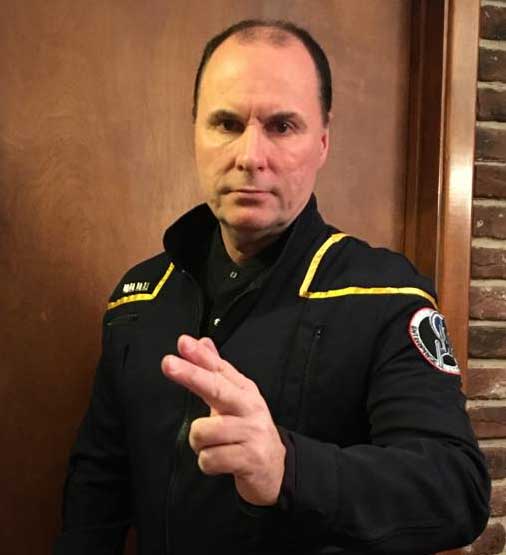 How do you choose your characters and how many do you have?
I stay within a few fandoms. Star Trek, Star Wars and Doctor Who.
My cosplay name is Jedi Jed which is a bit on Star Wars and the Beverly Hillbillies Jed Clampett. I do not try to look exactly like a specific character. In the Star Wars universe a generic jedi or a Sith Lord. Star Trek I do a different Star Fleet officer from one of the many incarnations of the franchise. However with Doctor Who I typically play the Tom Baker 4th Doctor. The Jedi are my favorite to cosplay.

What has been your most memorable moment at a convention?
The joy of seeing fans get excited about a cosplay character I am doing and getting photos with them is fun.
I was surprised at the Dallas Fan days last year when some 8 year old children were all
excited about my 4th Doctor cosplay. That incarnation of the Doctor ran from 1972 to 1980. Their devotion and knowledge of the series astounded me. Most people can rattle off scenes from the recent
episode since 2009. But wow the old stuff that was fun.

What are your favorite things to do at a con?
Attend workshops and hang out with other cosplayers I have come to know thru the convention circuit

Are you part of a charity group or do you cosplay on your own?
I am not officially in any one group because I do this as I mentioned to better my acting craft and to have fun and relax.
I have found many of the groups can be very draconian regarding costume design and politics to be accepted as a member. Fans don't give a crap about all that.
If you can make the character come to life then, as a cosplayer, you have succeeded.
I do it for the love of the fandom, my passion for the character and my fellow fans.

What do you love about Star Wars and cosplay?
Star Wars had a huge impact on science fiction and pop culture in general. It is international in appeal and with some of the concepts surrounding the Force it crosses many religions and philosophies.
I feel that not just Star Wars but all of my favorite fandoms such as Star Trek and Doctor who have stories that bring out our better selves and our humanity.
Art can move us to be better and cosplay is a part of that artistic expression. Cosplay can also be a very accepting and safe environment for people to express themselves. For example I have met a lot of people who in any other situation are extremely shy but they light up in the cosplay convention world.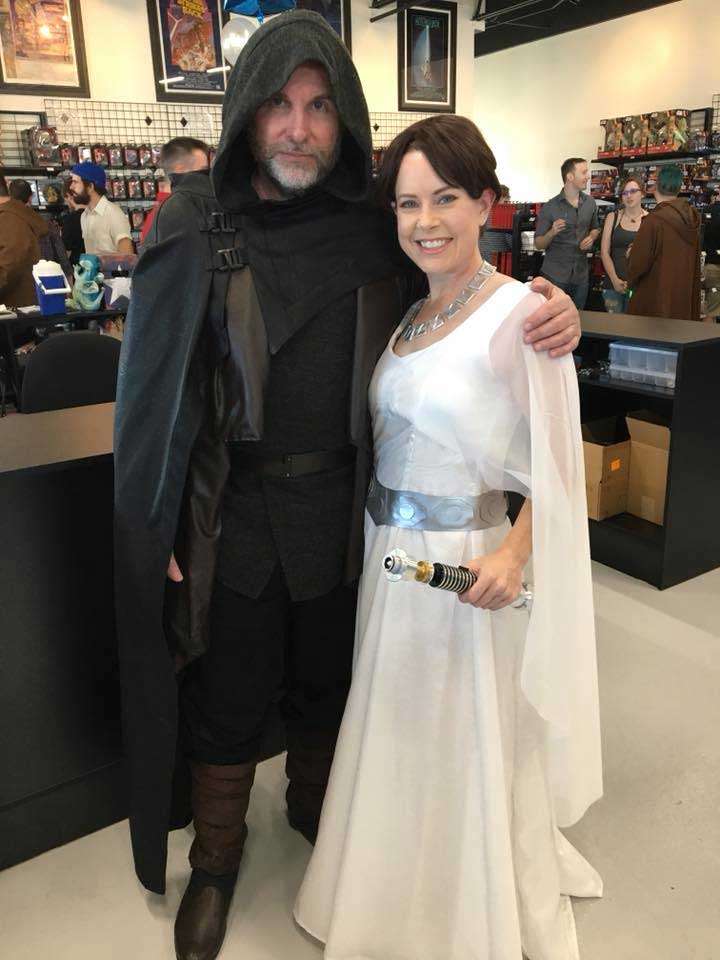 What advice do you have for someone interested in cosplay or joining a costuming group?
If you're new to cosplaying just pick something you love and take your best shot and your first costume. Don't worry about what you think others will like because as I said it is about artistic
self-expression.
I say purchase your first costume certainly and continue to purchase to have some really solid costumes then branch out with your own designs as you get better at sewing or creating props. Most conventions last 3 days and I typically do two costumes per day. More if it's a hotel convention and I have a room to fall back to and change.

As for joining a group I will give you a quote from Star Wars the Last Jedi. "It's all a machine partner, live free, don't join" .

But seriously, the decision to join a group or not is a personal one. For me, working a full time and part time job leaves me pretty tired of organization when it comes time to have fun.