News
September 2018 Comic Cons by State 08/29/2018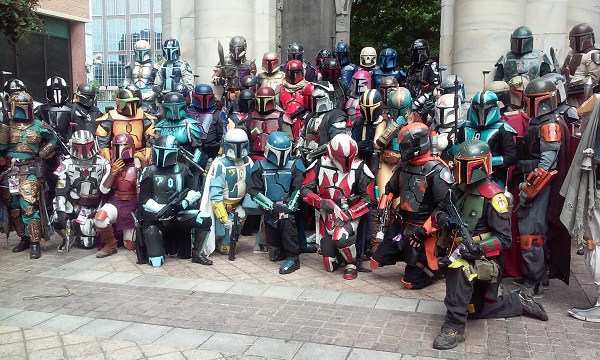 Picture credit: Martin Ryan - Mandalorian Mercs at Dragon Con 2017
Labor Day marks the end of summer...a good time to plan some entertainment for your weekends. There is a strong lineup of Comic Cons in September, and with a bit of luck there should be one in your area.

Not surprisingly, Comic Cons continue to grow bigger every year with events expanding their workshops, exhibit halls and celebrity and artist appearances. Comic Cons are the perfect place to experience American Pop Culture. Star Wars fans can expect a strong presence at cons providing an opportunity to connect with others in the fandom and to express your Star Wars geek.

Comic Cons are also the place to join the cosplay scene. JediRobeAmerica.com has everything you need to create your first Star Wars cosplay costume or to take your cosplay to the next level.
Get your Adult Star Wars Costumes HERE.
For Ladies Star Wars costumes, click HERE.
We also have a range of Kids Star Wars costumes HERE.

To make it easier, we have compiled a list of upcoming cons for September 2018. Click on the links below for event dates and times in your State:
Alabama:
Shoals Geek Expo - Florence 09/15
Arkansas:
Arkansas Comic Con - Little Rock 09/08, Spa-Con - Hot Springs National Park 09/21, Konsplosion - Fort Smith 09/28
California:
Long Beach Comic Con - Long Beach 09/08, California Republic Comic Con - Merced 09/15
Florida:
Space Coast Comic Con - Cocoa 09/07, Hero Hype Convention - Orlando 09/15, Creative Con - Panama City 09/22, MEGACON Tampa Bay 09/21
Georgia:
Dragon Con - Atlanta 8/30 to 9/3, Cartersville Comic Con - Cartersville 09/15
Hawaii:
Idaho:
Snake River Comic Con - Pocatello 09/27
Illinois:
Quad Cities Comic Con - Rock Island 09/01
Kentucky:
Lexcon Swaptember - Lexington 09/08
Louisiana:
Maryland:
Baltimore Comic-Con - Baltimore 09/28
Massachusetts:
Michigan:
Monroe Comic-Con - Monroe 09/15
Minnesota:
NerdinOut Con - Rochester 09/08
Missouri:
New Hampshire:
Granite State Comicon - Manchester 09/08
New Jersey:
Heroes + Villains Fan Fest 09/08
New York:
ROCCON - Rochester 09/08, Uticon - Utica 09/23
North Carolina:
Greensboro Comicon - Greensboro 09/15
Ohio:
Cincinnati Comic Expo - Cincinnati 09/14, Hall of Fame City Comic Con - Canton 09/15, Cartoon Crossroads - Columbus 09/27
Oregon:
Rose City Comic Con - Portland 09/07
Pennsylvania:
Keystone Comic Con - Philadelphia 09/14
South Carolina:
Power Comicon - Florence 09/09
South Dakota:
SiouxperCon - Sioux Falls 09/28
Tennessee:
IC Collectors Convention - Nashville 09/15
Texas:
Fandemic Tour Houston - Houston 09/14
Utah:
FanX Salt Lake Comic Convention - Salt Lake City 09/06
Vermont:
Vermont Comic Con - Burlington 09/15
Wisconsin:
Milwaukee Comic Con - Wisconsin 09/22, Brown County Library Comic-Con - Green Bay 09/29