News
Enjoy DragonCon Parade 2018 08/03/2018

The Atlanta DragonCon Parade is legendary for drawing thousands of spectators to downtown Altanta on the Saturday of Labor Day weekend.
Hundreds of Sci-Fi and Pop Culture cosplay characters participate in the parade, making it exciting for all ages. This year the action starts at 10 am on Saturday, Sept. 1.

Atlanta is HOT (Hotlanta, ya'll) and there will be crowds of people. Pre-planning will definitely help you make the most of the day. Here are some tips from our staff at JediRobeAmerica on how to enjoy the day with kids as well as attending if you have special needs.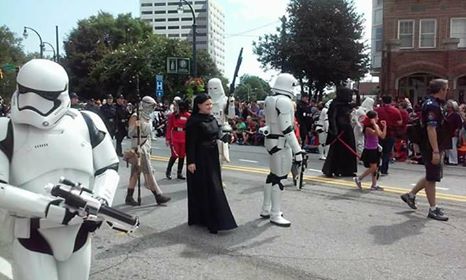 7 Tips to Plan Your DragonCon Parade Experience

Getting There: LEAVE EARLY, like 8 am. For us coming from north of Atlanta, taking Marta is a good option. Jumping on Marta at North Springs station gets you downtown in about a half an hour. Fellow parade goers make for lots of friendly banter on the train, and cosplay passengers get you in the spirit. We suggest wearing your Star Wars Costume to be part of the action. Again, Atlanta is HOT and you will be outside. Best keep that in mind when picking your costume.

Where to get off: Choosing the right station to disembark can help avoid being crushed in the crowds. Small children, people in wheelchairs and Autistic people will not enjoy the more crowded stations. We have found the Civic Center station is less crowded and the one to get off at. Peachtree Center station can be frenetic, so if you have little kids or special needs, avoid this one at all costs. This is our past experience - things may change from year to year.

Picking your viewing spot: Walking from the Civic Center station, you want to be going down to Peachtree Street NE which is a nice wide street that doesn't feel too tight. This is our pick for a viewing spot.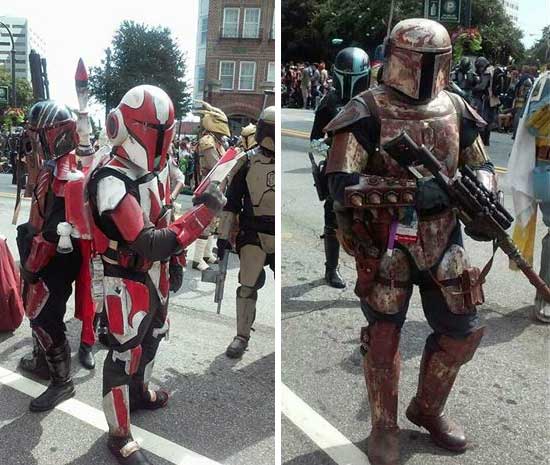 What to bring: Lightweight chairs are useful. You will be arriving early to get a spot, which means waiting can become an issue. Having a comfortable and "reserved" place to sit helps. Park your chair at the curb for a great birdseye view. Water and some snacks are essential, so come prepared. And remember your sunscreen.

When the parade rolls through: Have your camera ready for when parade participants put on a show. Get ready to interact and have fun. Also, some of the costumes and props are really big. Be safe and stay out of the street. NOTE, bring your noise cancellation earphones. Megaphones in the crowd can spoil the day for anyone with auditory sensivity.

When the parade is over: Give the area time to clear and then make your way towards the Marriott Hotel where the cosplayers gather for photo opportunities. On the way, you will enjoy plenty of people watching as many spectators are in costume. REMINDER: wear your Star Wars costume to be in on the fun. Cosplayers are happy to have pics taken, but remember to be polite and ask.

Get something to eat: when the action has died down, find a place to have lunch. Everywhere is crowded, so give some thought to where you might eat before getting there.

DragonCon Parade is an Atlanta institution. People travel from around the country to participate. If you live in the Atlanta area, don't miss out this annual holiday event where happy memories are made.

Get your Star Wars Costumes HERE.