News
Darth Vader Costume Build 06/21/2018
Here at JediRobeAmerica we love what we do.
We get costume requests from all over, and while sometimes we can't always help you ourselves, our enthusiastic team are more than happy to offer advice and point you in the right direction.
Our thanks to Lee for getting in touch with us to tell us about his Vader build....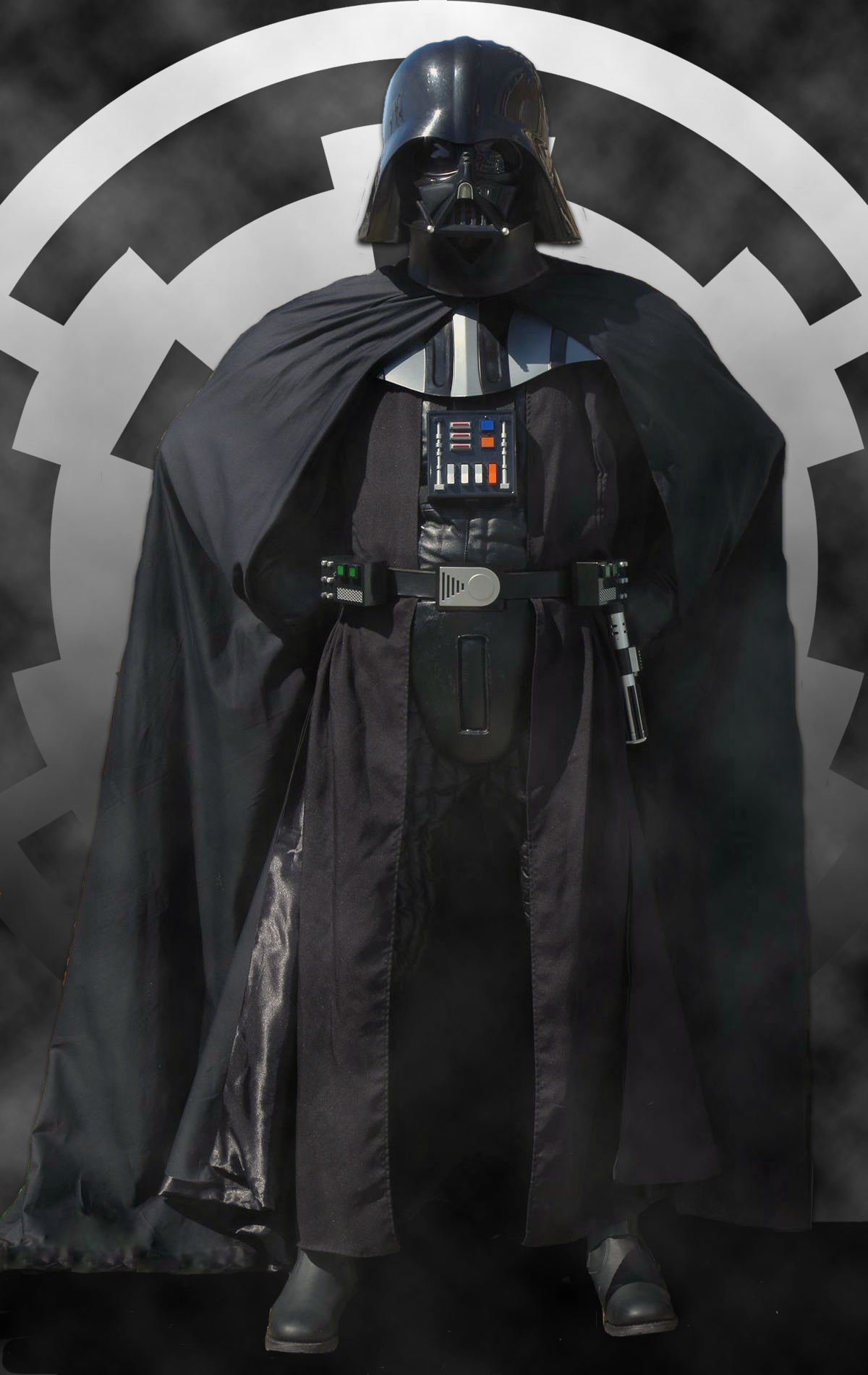 Hi Jedi-Robe,
It all started last year.
I've always fancied doing a Star Wars costume. I was five when A New Hope was first released, but due to my size, most characters would not be right for me. Standing 6'3.5", I'm just a little shorter than David Prowse, so Vader it is.

After a little searching I found some Rubies costume parts on Gumtree, (some costume groups dislike rubies kit but popular culture images of Vader seem to be based on their costume), but certain parts were missing - the cape, under suit, chest box and boots.

After extensive web searching. I was unable to locate any of the above.
Then I rememberd once passing a shop in the west London area, near a Mac Donald's, just off the A40. A little bit of searching on line and hey presto - Jedi-Robe.

I made a quick phone call to Wayne. Although he couldn't supply me directly, he sent me several links - one was a costume maker who could build a quilted leather under suit.

So a quick call to a leather supplier, and hey presto - two black Nappa leather skins supplied. A few hours later (ok more than a few hours later), the under suit is completed. Believe it or not there's over 300 yards of upholstery thread in the top trousers and arms.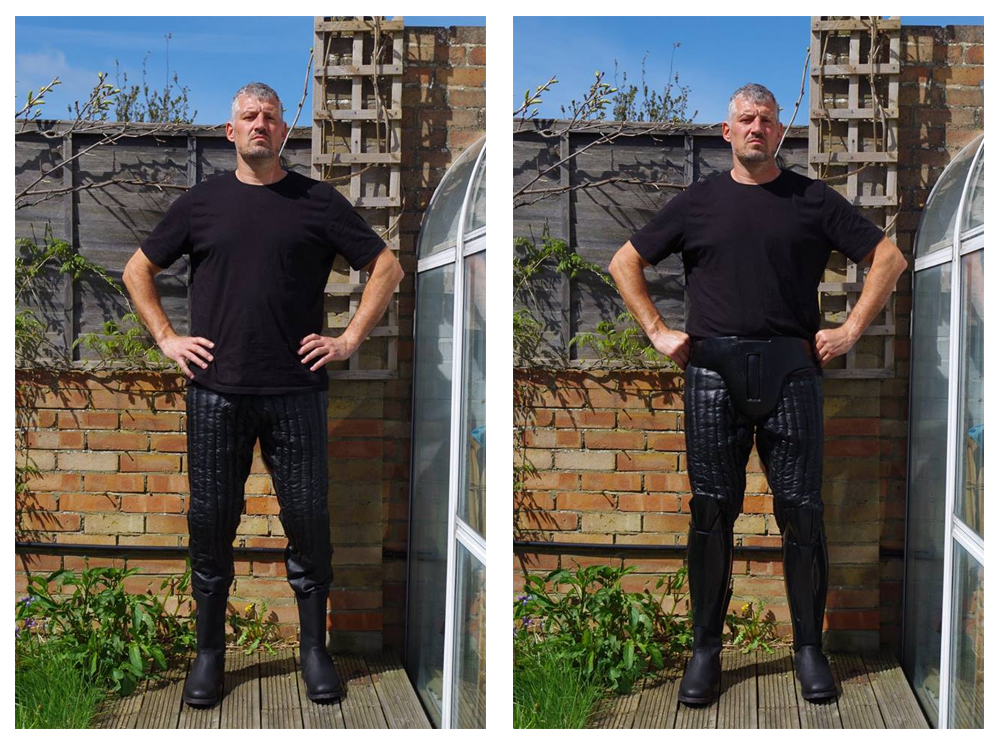 Next thing was the chest box. Again in my conversation with Wayne he'd mentioned the Hasbro voice changer helmet and box. Great tip. Sourced from eBay. Some straps added, a good clean and it looks good.

Two final things.

The cape. The cheapest way to buy fabric is in large sheets. (Super king size duvet covers). The outer Is 300 weight Egyptian cotton and the inner black satin (couldn't stretch the budget to silk and wool.). In all the cape is near full 270 degrees of a circle. Takes about forty minutes to iron, it's truly massive. Good hanging weight and blows beautifully in the wind.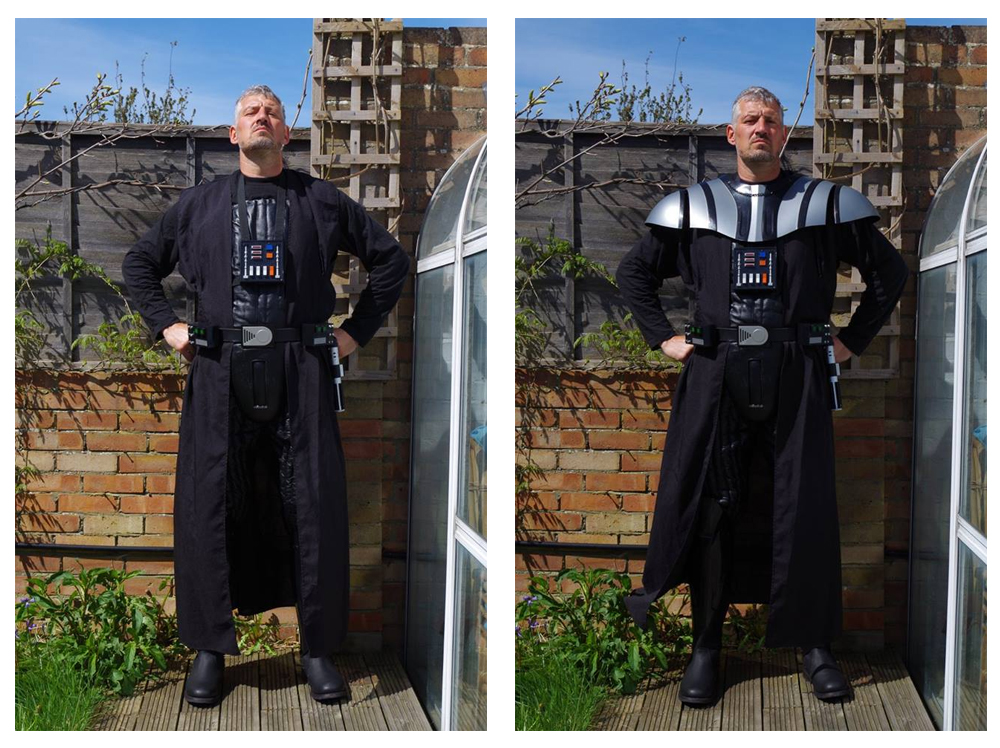 Boots. The last part. I'm not a cobbler and a custom set of leather knee boots starts at about £1500. No one at the moment is able to get Soviet jack boots, which is what I'm told Vader wore in the films. So again after searching, (I really wanted leather), I found a nice pair of motor cycle cruiser boots. Luckily my shin armour covers the screaming eagle design on the side.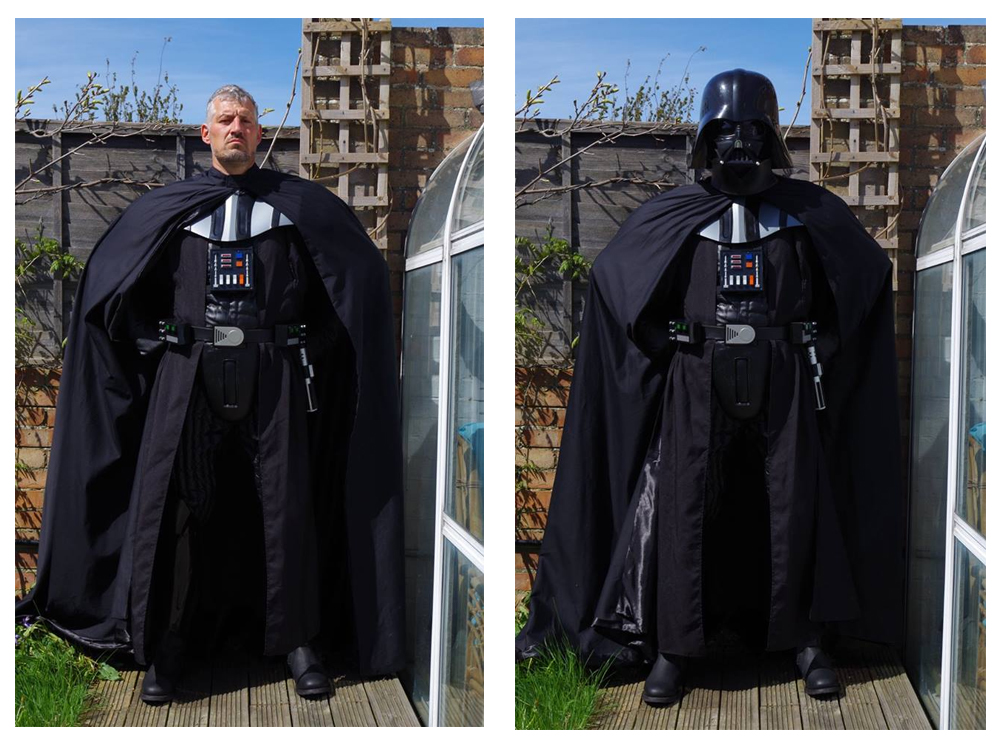 Other useful things added were twin computer fans in the helmet for cooling and keeping the lenses clear and a cooling gel pack velcroed to the back of the under suit for cooling.

So I think that's it.

Without the Links provided I may have lost hope. The finished article is what you see. Standing 6 feet 7, it's a pretty cool costume. So, as before, a big thank you to Jedi-Robe for all the help.

Cheers

Lee
To follow Lee, you can visit his Facebook page I am Vader