News
Comic Cons in Florida 2018 03/05/2018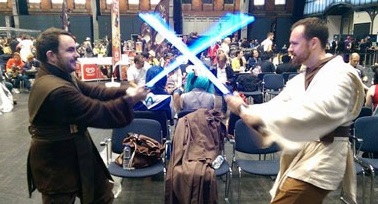 Florida has a bunch of Comic Conventions planned for 2018, so wherever you are in the state there is sure to be something coming up in your area.
It's a good idea to plan ahead, both for the logistics of the day and for your costume. With thousands of like minded fans, Comic Cons are great for embracing the full experience of pop culture.
Shop for your Star Wars replica costumes HERE and our range of Star Wars family friendly costumes HERE.
Check out the upcoming conventions in Florida below with links to each event:
March 2018
Hero Hype Convention - Miami 10-11 March 2018
Scifi and Literature Convention ICFA - Orlando 14-18 March 2018
Clearwater Comic Con - Clearwater 17 March 2018
Collective Con - Jacksonville 23-25 March 2018
CalusaCon - Fort Myers 24 March 2018
April 2018
FLPolyCon - Lakeland 7 April 2018
Infinity Con - Lake City 14-15 April 2018
Daytona Beach Comic Con - 21-22 April 2018
May 2018
MEGACON Orlando 2018 - Orlando 24-27 May 2018
July 2018
Florida Supercon - Fort Lauderdale 12 July 2018
CBC Comic Book and Toy Show - Jacksonville 14-15 July 2018
August 2018
Tampa Bay Comic Con - Tampa 3-5 August 2018
September 2018
Hero Hype Convention - Orlando 15 September 2018
Creative Con - Panama City 22-24 September 2018
October 2018
CBC Comic Book and Toy Show - Jacksonville 13-14 October 2018
November 2018
Daytona Beach Comic Con - Daytona Beach 4 November 2018
SW-FloridaCon - Fort Myers 11-12 November 2018