News
April 2018 Comic Cons 03/26/2018
Following on from our March Comic Con list, we are very happy to present April 2018.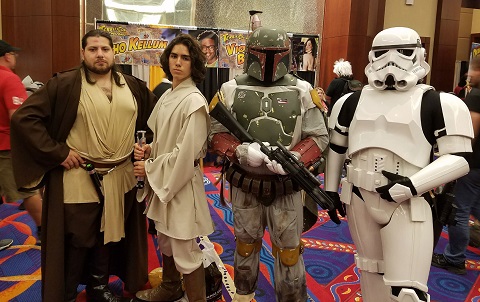 For the early birds, now is the time to order your Star Wars costumes, because this April is choc full of great Comic Cons coming up. There is not a minute to waste with getting your travel plans in order for these many great destinations. Or maybe there is one right around the corner from you.
Either way, don't forget to check us out too, for all your Star Wars Costumes & Accessories needs.
We are right HERE waiting to hook you up with your favorite Star Wars Costume or Stormtrooper Costume look.
Click on any listing below for Comic Conventions coming to your city and state in April 2018.
6 April
C2E2 - Chicago Comic & Entertainment Expo - Chicago - IL
Silicon Valley Comic Con - San Jose - CA
Empire State Comic Con - Albany - NY
7 April
MoCCA Arts Festival - New York - NY
Fresno Collectors Expo - Fresno - CA
Garden State Comic Fest - Atlantic City - NJ
Saratoga Comic Con - Saratoga Springs - NY
8 April
Comic Book and Non - Sports Card Show - Lutherville - Timonium - MD
13 April
Yellow City Comic Con - Amarillo - TX
Steel City Con - Monroeville - OR
14 April
DiNK Comic & Art Expo - Denver - CO
Beverly Comic Con - Beverly - MA
Big Apple Convention - New York - NY
Green Mountain Comic Expo - Barre - VT
15 April
Sac Comic-Con - Sacramento - CA
20 April
San Diego Comic Fest - San Diego - CA
Cape Comic Con - Cape Girardeau - MO
21 April
Daytona Beach Comic Con - Daytona Beach - FL
Plastic City Comic Con - Fitchburg - MA
Ypsilanti Comic Con - Ypsilanti - MI
Cherry City Comic Con - Salem - OR
Marble City Comicon - Knoxville - TN
22 April
Granite State Comic Fest - Nashua - NH
Williamsport Comic Con - Williamsport - PA
27 April
Universal FanCon - Baltimore - MS
East Coast Comicon - Secaucus - MD
Great Philadelphia Comic Con! - Oaks - PA
Wasatch Comic Con - West Valley - UT
28 April
Boston Kids Comics Fest - Boston - MA
Little Giant Comics Old School Comic Show - Concord - NH
29 April
Raleigh Comic Book Show - Raleigh - NC