News
Watch Darth Maul in Action 01/11/2017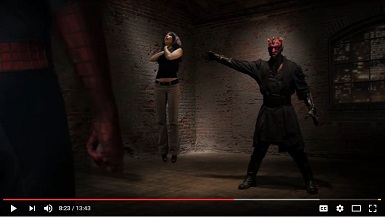 Super Power Beat Down is the brainchild of Aaron and Sean Schoenke who co-create action packed battles between legendary super powers.
This fun series invites fans to debate, discuss and ultimately vote to decide who the victor will be in each episode. Aaron and Sean travel to all the biggest conventions and interview fans to hear their views.
Check out Episode 17 SPIDER-MAN vs DARTH MAUL HERE with over 10 million views on YouTube. We disagree with the ending and the 55% of fans who voted in favor of Spider-Man winning the battle. But we will concede that we may be a little biased...
What I think we can all agree on is that Darth Maul looks amazing in his JediRobeAmerica.com Darth Maul Costume and that batinthesun have created an awesome video.
Get your Darth Maul Costume for Star Wars Celebration Orlando 2017 now at www.JediRobeAmerica.com.